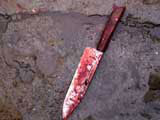 A citizen of Azerbaijan died in one of Moscow's subways. According to the law enforcement information, one of the Azerbaijanis got a deadly wound, after being hit with a knife.
"In the subway a fight between two Azerbaijani citizens took place. One man received numerous knife wounds, as a result of which he passed away", the source said.
Accrding to the source, as of now, the seach is on for the other Azerbaijani citizen. The place of the incident is crowded with police, but the transport movement is normal.
/Gazeta.ru/