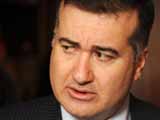 A story goes that Hitler was given a birthday cake during World War II with a map drawn on it. When asked which part of the cake he wanted, he pointed to Azerbaijan. Today, Azerbaijan's role in global affairs remains important, a consul general from the country said in a lecture at Montana State University's Energy Institute Friday afternoon.
But Elin Suleymanov said United States policy in recent years has weakened America's standing in Central Asia.
"President Obama gives an eloquent speech, but then there is nothing," Suleymanov told the group of students, professors and community members.
Conversely, Russian leaders are "doers, not talkers. In fact they are not very good at talking, but they do what they think they need to get done," he said to chuckles in the crowd. Suleymanov was in Bozeman in part to meet with students studying issues facing nations in the Black Sea and Central Asian regions.
Azerbaijan is a nation of about 9 million people. It became independent in 1991, when the Soviet Union collapsed and has become a major exporter of oil and natural gas. It is also involved in a struggle with neighboring Armenia, which Azerbaijan claims illegally occupies 20 percent of its country - and therein lies Suleymanov's criticism of recent America policy.
In a brief interview after his talk, he said that while the Clinton administration had a "comprehensive" view of the region, the Bush and Obama administrations have based their foreign policy on symbolism.
The Bush administration was fixated on democratic revolutions in the region, like the Rose Revolution in Georgia. Now, he said, the Obama administration is focused on easing tension between Turkey and Armenia "at all costs."
"With Clinton, we knew the U.S. would be (in the region) for the long term," he said. "If the U.S. policy in the region is not seen as long term, consequently the U.S. profile goes down and the U.S. ability to get things done decreases."
/The Boseman Daily Chronicle/