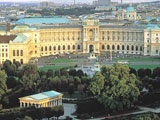 On the 30th of April, at the famous Vienna Concert hall, a joint concert of the Vienna Chamber Orchestra and Azerbaijani ensemble "Odlar Yurdu" was performed, according to the Azerbaijani embassy in Austria.
The concert program featured songs of such as Uzeyir Hajibeyov, Franz Shubert, Anton Rubinstein, Bakhtiyar Kerimov, Fikret Amirov, and others.
The concert gained great respond from the viewers, who especially asessed the professionalism of Azerbaijani tar player Ramiz Guliyev. After the concert (which was organized with the help of Azerbaijani embassy in Vienna), a reception was hosted by the diplomatic mission representatives.
/Trend/