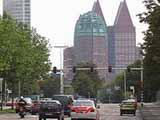 Azerbaijanis living in the Netherlands will hold protest actions outside the parliamentary building in Den Haag, the Netherlands, the State Committee for Work with the Azerbaijani diaspora said.
The action, to be held with the actions of Armenians who come up with slogans of "fictional genocide", has the purpose to inform the public of the Netherlands about false Armenian propaganda, genocide committed by the Armenians against Turkish and Azerbaijani people.
Slogans will be raised at the rally. Statements on the occupation of Azerbaijani lands by Armenians, and the Khojali genocide will be read.
/
Trend
/