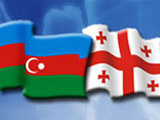 The history should be studied and assessed by the scientists, but not parliament and government structures, the statement of the Association of Azerbaijani Students in Georgia says in response to the appeal of the Armenian community in Georgia to the parliament on recognition of the genocide of Armenians in 1915 in Ottoman Turkey.
"We refute all the accusations of "genocide" in 1915 and therefore, condemn the unfair decisions of various states and parliaments. We do not understand such decisions on the backdrop of the statements by official Ankara, which stands ready to open its archives to study this issue," said statement sent today to the Parliament of Georgia.
"If these countries are interested in establishing the truth, first of all they must consider not the Armenian "genocide", but the Khojaly tragedy, which was committed in the 20th century. Only in one night the Armenians killed 613 people, including 63 children, 106 women, 70 elderly people. Eight families were completely destroyed, 25 children became orphans, 130 children lost parents," the statement says.
The statement also says that "another bloody date in the history of Azerbaijan is March 1918, when the Armenian nationalists killed 60,000 people."
"The policy of genocide was carried out by the Armenian nationalists, who thus expelled Azerbaijanis from their historical lands and tried to establish Armenian state with the assistance of their foreign backers. It was a real genocide in order to appropriate foreign territories," said the statement by the Association of Azerbaijani Students in Georgia.
Armenian community of Georgia appealed to the president and the parliament to consider recognition of the so-called "Armenian Genocide" in 1915. The Armenian community appeals to the authorities of the country to prepare a bill. The initiators of the appeal are non-governmental organizations.
/Trend/