The head of the Azerbaijani Cultural Centre in Estonia Niyazi Gadjiev telling about Azerbaijanis' life in Tallinn.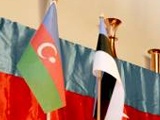 I recently visited Germany, where representatives of all the world's diasporas gathered together and told about their lives. It turned out that Estonia is the only country in the world, in Europe at least, that spends it's budget finances on national minorities. For example, if you want to open a school the government will help you with space and basic financing. This should be an example for all developed countries. Perhaps small countries are different, it is easier to realize anything, as long as there is no persecution based on religion and nationalism. It is a pleasure for people to walk in the streets of a country where people are indifferent to one's nationality.
At the moment Azerbaijan has no embassy in Estonia, so we are a "bridge" between the two countries. It is not without our help that the Azerbaijani Minister of Diaspora Affairs, Nazim Ibrahimov, visited Estonia, after which an Estonian delegation visited Baku, starting bilateral visits. This shows the importance of our communities' role.
Another important role is making contacts that influence decisions at a high level. I'd like to tell you about another interesting project. The Tallina Kristiyne Region has become twinned with the Surakhiskiy Region. The elders signed a partnership protocol in this very room and planted a tree of friendship in front of this building. Further details will be discussed in Baku. There is a Tallin Park being built in the Surakhinsky Region. The first Estonians appeared in Azerbaijan earlier than Azerbaijanis in Estonia. Estonians mostly worked in the sphere of industry, many worked for the Nobel brothers, some had their own oil wells. The wells are right on the spot where the park is being built.
I hope the Kristiyne Region will have it's own park of Azerbaijanian culture. The first tree has been planted. I am glad that the government supports and is bringing our initiatives to fruition. We published a book "Estonians in Azerbaijan in XIX-XX centuries" (the author is Jafar Mamedov). Our community is proud of it's books, Vidadi Mamedov has published Azerbaijani-Estonian and Estonian-Azerbaijani dictionaries and a truly great epic about Azerbaijanis in Estonia.
This is the result of our co-operation with the Eesti Kultuurkapital fund - Kitabi Dede Gorgud. Anneli Pekonen and Vidadi Mamedov, the translators, have done a great job translating a text over 1300 years old.
We had other important events, exhibitions, the Day of the Republic and the days of Azerbaijani culture in schools. We offered these projects to the Ministry of Culture and the fund of integration and our projects were approved. We had a mutual project with the Turkish embassy in Estonia, in which over 1200 people took part. There were contests, contests, exhibitions, dances. The prizes were trips to Baku and Turkey. The children liked it, it was pleasure to see them happy.
It made a connection between generations and peoples. Don't feel shy about your nationality! Understanding comes from childhood and communication.
When we started creating our community we wanted to support each other, sharing our joys and sorrows. I am glad it is this way. Maybe our love of traditions is inherited genetically. I think our integration in Estonia has been a success, because we didn't make our traditions a cult, but we remember them, we pass them on to our children and use them harmoniously in everyday life. An interesting piece of social research shows that 85% of Azerbaijanians living abroad can speak Azerbaijanian and remember their traditions and treasure their heritage. Just as we here are trying not to forget our origins. I am glad to be here and to be making a small but important contribution to the life of my people. I'd like to do as much as possible to bring our countries closer.
We had a long conversation that day, drinking aromatic tea with mint.
Walking back from the meeting, images of Estonian and Azerbaijanian nature passed through my mind: the sounds of the Baltic and Caspian waves, the twitter of swallows and beauty of flamingos, the rustle of the branches of Lankaran acacia and oak leaves, cornflowers and yellow bell-flowers waking in the morning mist, balmy roses covered in dew, swans gliding past with gentle grace...
By Olga Lillipuu, Tallin
/Vestnik Kavkaza/