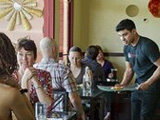 Cafe 2121 began as a quiet little breakfast/lunch place a few blocks west of Cafe 21 at 2121 Adams. The neighborhood adopted it warmly, so owners Leyla and Alex Javado moved to a more copasetic, slightly larger spot and changed the name to Cafe 21. They redecorated and in February started serving full dinners. The neighborhood noticed and said, "Why, Miss 21, without your extra '21' you're beautiful!" It was immediately a near-ideal "little neighborhood restaurant." But who would imagine that the food at such a spot would be based on the cuisine of — Azerbaijan?
That's why I decided to try it. I love the cuisines of its neighbor nations. (Pomegranate is the local showplace for fascinating Georgian food; our only local Armenian restaurant isn't much of a showplace, but as a teenager that was the first cuisine that bedazzled me.) And now — our first Azeri restaurant!
You're probably expecting the usual little dissertation on the geography, history, and gastro-anthropology of that country, right? Truth is, all I know about Azerbaijan is that it's one of the deep-south Balkan states that used to be an SSR and so absorbed some Russian influences while retaining a strong separate culture, including food with flavors that have more kinship with Persia and the Middle East as with the Slavic countries to the north. (According to co-owner Alex, "Azerbaijan" means "the land of fire." It's covered with pools of oil rising from underground, which can be set aflame.) "Azeri are famous for their hospitality," Alex said. "The moment a guest comes to the door, out comes all the food! We have tried to keep that sense alive in our restaurant."
Eating at Cafe 21 will tell you the rest of the culinary story — Azeri food adapted for healthy California eating, filtered through Leyla's creative sensibilities, with loads of fresh fruits, nuts, cheeses, herbs, and lots of labor-intensive "stuffed" dishes.
Leyla, petite and pretty, and husband Alex are both from Baku, their country's capital. Her father (recently deceased) is a beloved writer in their homeland; her mother is Ukrainian, adding another flavor to the mix. Alex is tall, dark, and broodingly handsome, but with a 500-watt smile (eye-candy alert to Jane Eyre fans and Goth girls!). He presides over the front of the house, while Leyla expedites the kitchen and creates the dishes. This isn't some amateur mom 'n' pop outfit struggling with the requirements of running a restaurant — though the place was slamming on my visit, the kitchen and service were right on their toes.
Alex moved here first; he came to San Diego to study for a degree in hospitality. In Baku, he managed a commercial bakery. He and Leyla were already engaged, and two years after his arrival, he sent for her. Leyla's culinary career began with making baklava at home for a Persian restaurant downtown on Cedar Street. Soon, they needed a legal commercial kitchen for the pastries, and they rented a kitchen at 2121 Adams (where Farmhouse is now), which gradually evolved into a breakfast/lunch restaurant. As it succeeded, they moved to their current location.
The restaurant is small (maybe 40 seats, plus bar stools and outdoor plaza), cozy, and attractive. Some of the joy is marred by the high noise level that comes of uncarpeted floors, uncushioned seats, et al. (and those seats eventually cause butt-fatigue over a long meal). Through a glass window behind the bar you can watch the cooks at work. (I was driven to distraction by the uncanny resemblance of the guy in the tall toque to a boy genius I dated when we were 15.) The kitchen staff look like pros, not cheap temps. The menu is changeable, with successful specials sliding into the regular arrays, according to the reactions of the diners. Unfortunately, two interesting lamb dishes listed on the website menu (including an Azeri lamb pilaf and a garbanzo "cassoulet") are currently MIA. "We don't want to have everything Azerbaijani," said Alex. "Our food is from all over the world. When I go out to eat, I like to taste more variety."
"I'm surprised how varied the crowd is," said Sam, noticing amid the rich ethnic mix a pair of middle-aged Oaxacan men waiting for a table. "Who'd imagine how many diners would want to try Azeri cuisine?"
The house-baked bread (with butter) consists of small, firm, round rolls that my tablemate John aptly compared to miniature bialy. Show restraint on bread consumption. The appetizers are huge, meant for sharing — or as alternative main courses for singles or couples. One quarter of one portion of the Apricot Cristo Crêpes would easily make a meal for a reasonable appetite. Thin, delicate crêpes are wrapped around hunks of turkey and melted mozzarella, subtly sweetened with apricot preserves, and touched with a thin raspberry-pomegranate sauce. It sounds potentially cloying but isn't: The fruit acts like a chutney in Indian cuisine, a spark of bright sweetness. The turkey tasted better than turkey, but none of us could name the magic seasonings — not because they were exotic, but because they were subtle — the result of a marinade that includes paprika, garlic, and olive oil (also used with the chicken that stuffs the pasta for a main course).
A quartet of smoked salmon blini had soft pancake-like bases (Ukrainian rather than Russian-style), topped with lox (of standard quality), crème fraîche, and a microgreen array including tiny flower petals. The surprise was a shot of hot — a hidden jolt of red pepper flakes cooked into the blini dough. "They can't mean for one person to eat this whole appetizer!" said Rebecca, John's petite wife. (Well, I know who that person would be, but then I'd call it dinner.)
The "signature" strawberry salad is Leyla's improvisation on California's ubiquitous raspberry-vinaigrette salads, with strawberries as her original touch. It offers organic spring greens, mild, creamy goat cheese, plump roasted pistachios, plus sliced strawbs doused in a sweet-tart strawberry vinaigrette with streaks of scarlet raspberry syrup decorating the plate. Normally I'm not fond of sweet salad dressings, nor of large commercial strawberries (particularly underripe exports from South America), but this was such a blast of vivacity and freshness, it was like switching from B&W to color. (Another house-special salad we didn't get to try is a baked grape salad with grilled almonds, goat cheese, and spring mix. A plateful passing by to another table looked like a Renaissance still-life painting brought to life and calling out, "Eat me.")
Our group was tempted by the light, clever toppings of the "Azeri hand-tossed pizzas" as appetizers, until we heard Alex warning our neighbors that they were really casual main courses and would kill their appetites for entrées.
Sam had brought an interesting Italian red for the entrée course (corkage just $10), but we wanted a white for appetizers. The wine list is modest and affordable (mainly under $30), nothing major on it. I chose a Writer's Block Rousanne white from Lassen County, with a front-label portrait of young Shakespeare bearing quill pen and an amusing back-label outburst of ridiculous prose: "I was pleasure-whoring in Elephant Alley one night when we accidentally bumped up. She was incandescence with teeth like halogen headlights and platinum-blonde hair that nearly crackled with product…" (It gets even funnier; e.g., the scuzzy motel room with "leftover chicken Vindaloo and a CD of some klezmer-metal hybrid.") Too bad the wine isn't as good as the unblocked writing. If you've got a cellarful of good wines and fall in love with the food here, BYO may be the way to go.
I usually beat the crowds by eating midweek, but scheduling snarls required a Friday-night visit. The restaurant was slamming. The whole staff was coping remarkably well with service, but by 7:30, some popular entrées, like the Rustic Duck Stew, had run out. We substituted the handsome Azeri Pasta we'd seen snaking its way through the house to another table. This consists of four dumplings (like Russian pelmenyi) stuffed with coarsely chopped chicken (both white and dark), both topped and mixed with a swirl of caramelized onions, each pastry sitting next to a matching pool of basil-strewn crème fraîche on the rectangular serving plate. The pasta proved rather thick and chewy (that's authentic, like it or not). The chicken (marinated before cooking, like the turkey in the crêpes) was flavorful.
Seeing Salmon in Puff Pastry on the menu gave me a giggle of recognition. It is a version of Coulibiac, one of the labor-intensive haute cuisine dishes created by the fabled French chefs who went off to Russia to work for the Czars — dishes that were then re-adapted by Parisian chefs when White Russian émigrés (the Kardashians of their day) became a human fad in France in the late 19th Century. Cafe 21's version has a thin, crisp puff pastry and includes spinach and a goat-cheese mousse in the stuffing, with a mushroom cream sauce for moisture over an elaborate basmati rice pilaf. All would be well, but the salmon is too dry, nearly tasteless — probably farm-raised product, lacking the muscular flavor and underlying fat of wild catch. "What a pity," said Rebecca. "You can get much better wild salmon at Costco for about the same price."
The pilaf is not simply rice but almost Persian-style, studded with golden raisins, green lentils, nuts, and bits of spinach. (I have to admit I didn't discover all that at the restaurant, but in the leftovers, so some of it may be trout-stuffing spillovers.) Moistening the rice is a light, velvety mushroom cream sauce. I suddenly realized that newfangled upscale California restaurants rarely do cream sauces anymore. And a good cream sauce is a joy forever. How could something so scrumptious go so far out of style? Julia Child ate butter and cream to the very end, well into her 90s, but I guess we have to blame the food police, who declared war on fat in the '80s — opening the way to agribusiness's sea of sweet, empty carbs (e.g., high-fructose corn syrup). Now we don't eat fat — we are fat.
Two of the evening specials were must-tries. In stuffed rainbow trout, the filling protects the delicate meat and keeps it tender, while the skin is blasted on high heat until dark and shatteringly crisp. The stuffing: minced spinach, walnuts, dill, meaty black mushrooms. Perfect. On the side are small potatoes and, looking like chopped Yukon golds, chunks of baked underripe pears. Like the salmon, it comes atop pilaf with mushroom cream sauce.
Stuffed Savoy Cabbage is the ultimate in comfort food, like something cooked by a grandmother who really loves her grandchildren. This must be a contribution of Leyla's Ukrainian family; the Azeri, Alex told me, prefer to stuff summer vegetables (tomatoes, peppers, summer squash, etc.), like the Persians. This rendition is much gentler than my Russian grandmother's (which had regular cabbage stuffed with rice and cheap ground beef in a heavy canned tomato sauce studded with cloves and raisins). Instead, it has meltingly soft Savoy cabbage surrounding a very gentle meat loaf of veal and rice, moistened with a sauce of cooked fresh tomatoes. A side of mashed potato melts into the sauce. First bite seemed bland. Third bite, surrender.
Did we want dessert? Not really — until we saw one of many plates going by showcasing great white trembling half-domes bedecked with strawberry slices. "Is that dessert Azeri?" Sam asked Alex as he passed our table. "Sure," Alex answered. "My wife's from Azerbaijan; she created it, so it's Azeri." Light, creamy-textured, and indulgent — but much less fattening than it seemed — it consisted of whipped egg white meringue (see, no fat and almost no calories!), whipped mascarpone (to hold it all together), and coconut, garnished by berries, with barely enough sugar to sweeten it. The espressos weren't great (no crema) but decent. Leyla rarely makes baklava anymore. "It doesn't make good business sense for us," said Alex. "As soon as she makes them, I eat them all."
The exploration has just begun. "I want to come back here right away to taste the rest of the menu," said Sam. And at these prices, it's easy to do so. A singleton can fill up (on an appetizer or pizza) for $12 or less. A larger group can do two courses for about $25 (plus beverages). The food is fresh, seasonal, vivacious, unconventional. Welcome to affordable Azerbaijan!
Foodie Gossip, Mainly Good: Well, I've adapted to the Modern Age at last and now have a blog on the Reader website with the freshest food gossip I can reap on the streets, whenever I think of posting. (Mainly, I think, births and deaths of restaurants, plus the occasional new venture that doesn't fit easily into the review format.) Do not expect me to Tweet, too. I'd rather sing for my supper. In any case: the Jai issue has worked itself out. Jai will be open only when there's a show at the next-door theater (next time will be June). The rest of the time (such as right now) it will go into hibernation. Better part-time than no time, right? And, shockingly, popular Trattoria Acqua was on the verge of closing when it lost its lease last week, but the landlord reneged at the last minute, so it's back for at least another year.
Up in UTC at the corner of Executive and Executive, catty-corner from Executive (pray, find that address!), Venice bit the dust. This was a decent Italian restaurant in a corporate park that was totally dark after 5:00 p.m., when all the live executives went home — leaving nobody to eat dinner there. And La Jolla Rancherita has also gone down, taking with it their fine treatment of local lobsters but otherwise standard Baja-Mex cuisine.
Naomi Wise
San Diego Reader