Representatives of Azerbaijani and Turkish communities of California meet with high-ranking member of US Congress Committee of foreign affairs.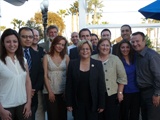 According to the US-Azerbaijani Committee, on April 6 representatives of Azerbaijani and Turkish community of California met with representatives of the Republican party from Florida, that is a high-ranking member of the committee of foreign affairs of the US congress, as well as member of Turkish cocus in the Congress Ileana Ros-Letinen, according to the press release, received from these organizations Tuesday.
The message states that during the meeting Azerbaijani and Turkish activists told Ros-Letinen about radicalism of Armenian groupings, intimidating and putting pressure on representatives of Azerbaijan and Turkey.
In particular, she was informed about the recent attempt of the representatives of the Armenian youth federation (youth wing of Dashnaktsutun party in California) to break the speech of Azerbaijani general consul Elin Suleymanov at the Californian university by racist calls for deportation of Azerbaijanis and Turks to Middle Asia and belonging of Armenians to the Arian race.
Representatives of the Turkish community also spoke of defamation and discrimination aimed against Turks at Californian schools and universities where events of the early 20th century in Easter Anatolia are interpreted as "genicode" under pressure of the Armenian lobby.
The representatives of the two communities also voiced concern about the open anti-Turkish and anti-Azerbaijani propaganda in the legislative body of California. In particular, Ros-Letinen familiarized with the recent attempt of the member of Californian assembly Paul Krikoryan to avert recognition of the Khojaly tragedy by the Californian law-makers, as well as its putting for discussion of absurd legislative act AB961 that urges to impose sanctions on local companies conducting business with Turkey and all the countries "condemned for genocide".
In turn, Mrs Ros-Letinen noted that racist attacks, intimidation and pressure on ethnic grounds are inadmissible for the US public and that she will take the presented facts into account.
She also noted that she comes from a family of Jewish migrants from Turkey and therefore she is proud of her Turkish origin. Ros-Letinen especially stressed the positive role of the initiative of "Laying bridges from the Caspian Sea to Mediterranean", organized by the Azerbaijani-American Council, American-Jewish Committee and Turkish-American Association and was also informed about the forthcoming conference on "Jews in Turkish world", planned to be held in New York in autumn of 2009.
/Day.Az/