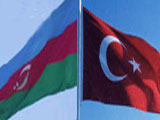 Azerbaijani-American Council (AAC) and Azerbaijan Society of America (ASA) join Azerbaijani-and Turkic-American community in California to express their concern about the racist remarks made by the Armenian-American activists at the presentation on "Geopolitics of Energy Security" sponsored by the California State University Northridge (CSUN) College of Engineering and Computer Science on March 11, 2009, the press release received by Trend News from these organizations says.
During the speech on regional energy projects by the Consul General of Azerbaijan in Los Angeles, Elin Suleymanov, a group of Armenian student activists turned the discussion into an offensive attack on Azerbaijani and Turkic peoples by shouting slogans against ethnicity and race.
"We value every American's right to express his/her opinions freely and encourage a civilized, open dialogue with the Armenian-American community. At the same time, ethnic insults and racial slurs represent a disturbing abomination in 21st century America and are unacceptable for the academic environment," the press release says.
"Unfortunately, instead of engaging in a constructive and relevant discussion, Armenian activists resorted to shouting slogans calling openly for the destruction of Azerbaijan and mass deportation of Azerbaijani people from their lands, moving the entire nation elsewhere on Earth," the document says.
"These sentiments clearly echo similar calls for the destruction of Israel and exodus of Jewish people made by some enemies of humanity. Even more disturbing were references made by the Armenian activists to "Armenian Aryan superiority", while Azerbaijanis were denigrated as an "inferior Turkic race"," mentioned in the press release.
AAC and ASA considers this as deeply offensive to Azerbaijani-Americans as it is, and want to believe that such manifestations of racism and Turcophobia are not shared by all Armenian-Americans.
"And today, we are hopeful that Armenian-Americans and friends of Armenia share those values and understand how damaging the ethnicity-based chauvinism and racism are for Armenia," the press release says.
The conflict between the two South Caucasus countries began in 1988 when Armenia made territorial claims against Azerbaijan. Armenian armed forces have occupied 20 percent of Azerbaijan since 1992, including the Nagorno-Karabakh region and 7 surrounding districts. Azerbaijan and Armenia signed a ceasefire agreement in 1994. The co-chairs of the OSCE Minsk Group - Russia, France, and the U.S. - are currently holding the peace negotiations.
/Trend News/