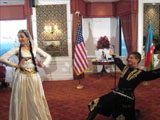 Yesterday, the Consulate General of Azerbaijan in Los Angeles hosted a reception honoring the 90th anniversary of the establishment of the Azerbaijan Democratic Republic in 1918, the first democratic republic in the Muslim world.
In his remarks, Consul General Elin Suleymanov stated, "The establishment of the Azerbaijan Democratic Republic on May 28, 1918, demonstrated the commitment of our people to tolerance, democracy and progress. These principles continue to inspire the citizens of Azerbaijan since restoring the nation's independence in 1991."
At the reception, Beverly Hills Councilmember Jimmy Delshad read a proclamation recognizing Azerbaijan's Republic Day, while the City of Los Angeles Chief of Protocol Elga Sharpe and L.A. County Deputy Chief of Protocol Lourdes Saab presented greetings from Mayor Antonio Villaraigosa and the L.A. County Board of Supervisors, respectively. Other greetings included proclamations from California Governor Arnold Schwarzenegger, as well as from the governors of the states of Nevada, Utah, Washington and Wyoming.
Special awards were presented to Mrs. Demetra George-Mustafoglu for her outstanding live performance of the Azerbaijani National Anthem and to the U.S.-Azeris Network (USAN), represented by managing director Adil Baghirov, for USAN's contribution to energizing the Azerbaijani-American Community.
The festive celebration, held at Los Angeles's Regency Club, featured colorful Azerbaijani dances by Namus and Aliya Zohrabovs and a performance of Latin guitar music by members of the internationally renowned Alex Fox trio.
Click to enlarge: