Today Azerbaijani-Americans commemorate the 16th anniversary of Khojaly Massacre.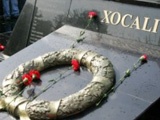 On the night of February 25-26, 1992, Armenian armed forces surrounded and attacked the town of Khojaly in the Nagorno-Karabakh region of Azerbaijan. Fleeing civilian population of this Azeri-populated town was subjected to killings brutality of which goes beyond any imagination. Over 600 people, including 106 women and 83 children, were tortured to their deaths in freezing temperatures, with hundreds more missing. Some shocking facts of the massacre include a stabbing and forcible removal of fetus from a pregnant woman, blinding and beheading children, maiming elders and shooting them at close ranges. According to Human Rights Watch, Khojaly Massacre was "the largest massacre to date in the conflict" over Nagorno-Karabakh (Human Rights Watch / Helsinki. Azerbaijan: Seven Years of Conflict in Nagorno-Karabakh. New York. 1994)
 For 16 years after Khojaly, Armenian side officially denies its involvement and refuses to take responsibility for it. Some Armenian groups have even invented alternate stories alleging that Azerbaijanis killed their own people for political aims. Yet the fact of this crime against humanity was recited "proudly" by the Armenian participant of Karabakh war, current prime-minister and president-elect of Armenia, Serzh Sarkissian, as follows: "before Khojali, the Azerbaijanis thought that they were joking with us, they thought that the Armenians were people who could not raise their hand against the civilian population. We were able to break that [stereotype]." (Thomas De Waal. Black Garden: Armenia and Azerbaijan through Peace and War, NYU Press, 2004)
Another detailed account of the Armenian involvement was given by Markar Melkonian in the book about his brother, Monte Melkonian, the leader of ASALA terrorist group in 1980s and Armenian field commander during Karabakh war, who witnessed Khojaly Massacre:
"By the morning of February 26, the refugees had made it to the eastern cusp of Mountainous Karabagh and had begun working their way downhill, toward safety in the Azeri city of Agdam, about six miles away. There, in the hillocks and within sight of safety, Mountainous Karabagh soldiers had chased them down... fighters had then unsheathed the knives they had carried on their hips for so long, and began stabbing.." (Markar Melkonian. My Brother's Road: An American's Fateful Journey to Armenia. New York: I.B. Tauris, 2005, p. 213)
To this day, the United States and other Western countries failed to properly recognize the memory of Khojaly victims. The facts of Khojaly, Massacre, a crime against humanity which preceded Srebrenica Massacre, were never completely  pursued by the relevant U.S. or international bodies, those responsible for it were never brought to justice. Many of those suspected of perpetrating the massacre still remain in Armenia and the Armenian-occupied regions of Azerbaijan.
Azerbaijani-American Council joins all Azerbaijani-Americans today in remembrance of the victims of Khojaly Massacre and calls for a proper recognition and condemnation of it by the U.S. federal and state legislature, public officials and community groups.
/Today.Az/