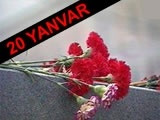 A meeting dedicated to Bloody January and the Khojaly genocide with participation of representatives of the Azerbaijani Congress of Sweden Emil Mirzayev and Elyar Maharramov took place in parliament of Sweden.
At the meeting representatives of the Congress of Azerbaijanis of Sweden noted that the world community shouldn`t remain indifferent to actions of Armenians against the peaceful Azerbaijani population on February 26, 1992, and stressed importance of recognition of these events as genocide. Besides, representatives of the Azerbaijani congress of Sweden informed the Swedish deputies about history of Azerbaijan, being today a modern independent state. They also told about events on January 20, 1990, about the heroes who fell during these bloody events for the freedom and independence of Motherland.
Representatives of the Congress of Azerbaijanis of Sweden noted the importance of settlement of the Armenia-Azerbaijan, Nagorno-Karabakh conflict which in March of current year will be discussed in Riksdag. The Congress considers that because the parliament of Sweden always supports neutrality, objectivity in the international conflicts, it should participate more actively in negotiating process, exert influence on Armenia to implement the United Nations and European Parliament resolutions on it.
/
AzerTAc
/