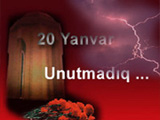 Azerbaijan`s Embassies in Jordan, Saudi Arabia, China, Morocco, and Canada commemorated the 22nd anniversary of Bloody January tragedy. In the commemorative events organized by the Embassies the speakers briefed the attendees on the history of the tragedy.
Azerbaijani Ambassador to Jordan Elman Arasli gave interview to Jordan TV in connection with on the tragedy. The Embassy distributed statement on the Foreign Ministry of this country, and other governmental bodies, embassies of foreign countries.
*****
The participants of the event held in the Embassy in Saudi Arabia also viewed stand reflecting materials on Bloody January.
*****
Azerbaijani Ambassador to China Latif Gandilov spoke of the terrible massacre committed against innocent people over the night from January 19 to 20. The participants watched a film dedicated to the tragedy.
/
AzerTAc
/