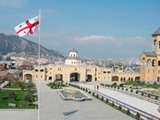 The Congress of Azerbaijanis of Georgia organized an event to celebrate the Day of Solidarity of World Azerbaijanis. The event supported by Akkord Industry-Construction Investment Corporation OJSC brought together employees of the embassies of Azerbaijan and Turkey in Georgia and representatives of local community.
Addressing the event, chairman of the Congress of Azerbaijanis of Georgia Huseyn Yusifov said the Solidarity Day of World Azerbaijanis was marked for the first time in Nakhchivan in 1991 at the initiative of national leader Heydar Aliyev.
Huseyn Yusifov touched upon the contribution of friendly relations between Presidents of Azerbaijan and Georgia for boosting cooperation between the two counties.
Deputy Secretary of the National Security Council of Georgia Tamar Kintsurashvili and Governor of Kvemo Kartli David Kirkitadze expressed their satisfaction on celebration of the Solidarity Day of Azerbaijanis in Georgia. Tamar Kintsurashvili also underlined that Georgia is standing in solidarity with Azerbaijan.
Georgian President`s Advisor Mubariz Garayev provided information on the Day of Solidarity of World Azerbaijanis associated with national leader Heydar Aliyev`s name. Chairman of the Congress of Azerbaijanis of Georgia Huseyn Yusifov and Bolnisi district deputy governor Ramin Asadov were awarded the third level Vakhtang Gorgasali and glory orders respectively
/
AzerTAc
/