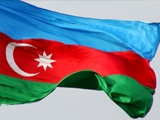 The Azerbaijani Diaspora in Hungary condemns a bill of the Lower Chamber of the French Senate on criminalizing denial of the so-called "Armenian genocide".
"The genocide was committed by Armenian armed groups against defenseless Turkish children, women and old people in Van, Rize, Erzurum, Trabzon and other regions, while Turkish men selflessly fought at the battlegrounds of the World War I and defended their motherland in Chanakkale, Sarikamish and other regions. Two and a half millions of peaceful Muslims were killed by Armenians in Anatolia! Isn`t it a Genocide? If French legislators are so consistent let them adopt a law criminalizing the denial of Khojaly Genocide," Diaspora said.
Turkish and Azerbaijani students will organize a rally to post leaflets "There was no "Armenian genocide"!" on the walls of the embassy of France to Hungary. According to the Hungarian laws, these actions are legal. 
/
AzerTAc
/