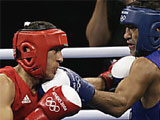 Today, Olympic sport center "Serhedchi" will host a semi-final round between Azerbaijani box team "Baku Fires" and French team "Paris United" within the International Box Organization.
According to press service head of the Azerbaijani Boxing Federation Elnur Mammadli, the matches will be as follows:
54 kg. Magomed Abdulhamidov (Azerbaijan) - Georgiy Kilanava (Georgia)
61 kg. Semen Grivachev (Russia) - Abdelkader Chadi (Algeria)
73 kg. Magomed Nuritdinov (Belarus) - Stephen Cuevas (France)
85 kg. Denis Poyatsika (Ukraine) - Ludovik Grogue (France)
Over 91 kg. Magomedrasul Majidov (Azerbaijan) - Tony Yoka (France)
The revenge match will be held in Paris on April 15.
/Vesti.az/