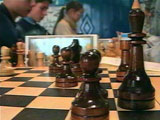 8 Azerbaijani chess players attended the European Championship held in France. Five matches will be held today.
According to azerisport.com, amid Azerbaijani chess players Gadir Huseynov has so far shown best results gaining 3.5 points. The next match he will face Ukrainian Andrei Volokitin.
Moreover, another player Namig Guliyev will face with Ernesto Inarkiev, as well as Vasif Durarbeyli with Moldavian Viktor Bologan who is the winner of "Aeroflot Open".
Matches of the fifth round:
Andrei Volokitin (Ukraine) - Gadir Huseynov
Rauf Mammadov - Giveyn Jones (England)
Ernesto Inarkiev (Russia) - Namig Guliyev
Viktor Bologan (Moldova) - Vasif Durarbeyli
Alene Mile Beresku (Romania) - Eltaj Safarli
Rufat Bagirov - Bojan Vukovich (Serbia)
Nijat Mammadov - Basil Nedilko (Ukraine)
Danny Raznikov (Israel) - Kanan Izzet

Standings after the fourth round:
1-2
. Vladimir Potkin, Boris Savchenko (both Russia) -
4
points each,
3-10
. Antoine Virig (France), Alexander Moiseenko (Ukraine), Boris Grachev, Mikhail Kobalia (both Russia), Gadir Huseynov (Azerbaijan), Marcus Ragger (Austria), Anatoly Weisser, Antoine Belesh (both France) -
3,5
points.
/Day.Az/