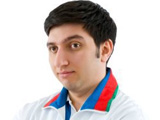 The chess tournament in Monte Carlo ran the 6th round. In this round Azerbaijani grandmaster Vugar Hashimov triumphed over ex-world champion Vaselin Topalov with a score of 1.5:0.5. The blinds ended in a draw but in the swift chess Vugar managed to defeat his rival.
Hence, he gain the third victory amid six matches and shared ranks 6-9 with Russian Sergey Karyakin, Topalov and Ukrainian Vasiliy Ivanchuk.
The first place is occupied by Armenian Levon Aronyan- 8.5 point. On the seventh day Vugar will face Karyakin.
/Vesti.az/