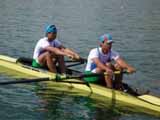 The boating and canoe events have wrapped as part of the International Regatta in Azerbaijan's Mingachevir region. A total of 64 rowers from Azerbaijan, Georgia, Russia, Ukraine and Iran performed on the first two days of the tournament.
Leaders of the Azerbaijani national team were the best. Worthy of note among the winners is double world champion Valentin Demyanenko, who became the best in 200 meters, and Andrei Kraytora, who became the first in 500 meters. In 1000 meters, Adnan Aliev became the first and Bezugly Sergei and Maxim Prokopenko duo also came to the finish line first. The Russian athletes were able to take only two silver medals at these distances.
According to the national federation's press office, Ukrainians women performed better in the competition. Particularly distinguished were Vlada Kositskaya, who won two gold medals in 200 and 500 meters.
/Azerisport.com/