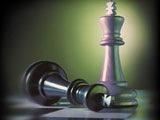 The final round of the Mikhail Tail memorial chess tournament involving Azerbaijani grandmaster Shahriyar Mammadyarov was held in Moscow on Saturday.
Azerbaijani grandmaster played against Boris Gelfand with black figures to a become leader, but failed to meet his target. The outcomes of other rounds are as follows: Van Hao – Sergey Karyakin 0.5:0.5, Vladimir Kramnik – Alexei Shirov 1:0, Pavel Elianov – Levon Aronyan 0.5:0.5, Alexander Grischuk - Khikaru Nakamura 0.5:0.5.
Thus, Mammadyarov, Aronyan and Karyakin have 5.5 points each, Grischuk, Nakamura and Van Hao – 5, Kramnik – 4.5, Gelfand – 3.5, Shirov – 3 and Elianov has 2.5.
/Azerisport.com/