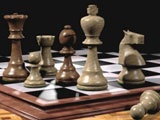 The eighth round of the Mikhail Tail memorial chess tournament which also involves Azerbaijani grandmaster Shahriyar Mammadyarov will be held in Moscow today. Azerbaijani chess player will play against Chinese Van Hao with white figures.     
The remaining pairs are Sergey Kariakin-Vladimir Kramnik, Alexei Shirov- Pavel Elianov, Levon Aronian - Alexander Grischuk and Hikaru Nakamura-Boris Gelfand.
At the seventh round, Mammadyarov drew with former world champion Vladimir Kramnik. After 7 rounds, Mammadyarov, Aronyan and Van Hao have 4.5 points each, Grischuk, Kariakin and Nakamura 4 points each, Kramnik has 3.5 points and Shirov and Elianov have 2 points each.
/Azerisport.com/