The fifth round has ended as part of the Mikhail Tail memorial chess tournament in Moscow.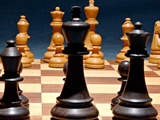 Azerbaijani grandmaster Shahriyar Mammadyarov played a draw against Russian Alexander Grischuk with black figures. Mammadyarov defended himself fairly well against the constantly attacking Grischuk who at one point had two extra pawns. But in the end after the 49th move of the whites rivals agreed to a draw.
Levon Aronian (Armenia) - Sergey Karjakin (Russia) and Vladimir Kramnik (Russia) - Wang Hao (China) encounters also ended in a draw.
Pavel Elianov (Ukraine) defeated Boris Gelfand (Israel) and the party Alexei Shirov (Spain) - Hikaru Nakamura (USA) was delayed and ended late. Mammadyarov scored 3 points and will play with Elianov tomorrow.
/Vesti.az/