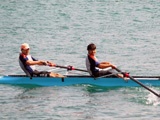 The Azerbaijani National Rowing Federation will take part in the congress of the International Canoe Federation (ICF) to be held in Santiago de Campostela, Spain on. Oct.29, the federation reported. The congress is held every two years.
Two days of meetings will give the National Federation members a chance to air their views, discuss with others and help guide the sport in the right direction. Aside from reports from the Board of Directors and discussions on NF proposals made at the beginning of the year, the Congress will also be holding elections.
Also on the agenda is confirming the ICF's new National Federation members. There will be over 130 delegates in attendance, each will be able to partake in the discussions on the Federation's activities over the next two year period until the next Congress.
/Trend/