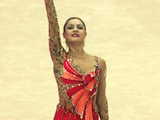 Azerbaijani gymnast Anna Gurbanova is attending the annual club championship in Italy, the first round of which took place in the city of Desio, the Azerbaijani Gymnastics Federation reported today.
Gurbanova performs in the group of the strongest teams - in A1 series. Like a year ago, she anew represents Komense-1872. In the last round the Azerbaijani athlete was entrusted to perform with a ribbon. As a result of the competition, she scored 26.05 points.
Gurbanova's club scored 26 points and ranks ninth, being behind the leaders by 15 points.
Another Azerbaijani gymnast Aliya Garayeva will join the competition in the second round of Italy's Club Championship, to be held Nov. 6 in Arezzo.
She will compete in the "Rhythmics" team performing a rank below - in A2 series. After the first round Garayeva's club ranks third scoring 36 points. During the interval between Italian rounds Garayeva and Gurbanova will perform in the Grand Prix Final. The final stage of this competition will be held in Berlin on October 30-31.
/Trend/