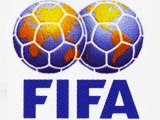 Azerbaijan's national soccer team has the last but one place in the group A of the Euro-2012 qualifier, according to the updated FIFA ranking released today.
Azerbaijani team ranks behind Germany (4th spot), Turkey (29th spot), Austria (49th spot) and Belgium (62nd spot). Ranking 91st, Azerbaijan has left Kazakhstan (137) behind.
Among former USSR countries, Azerbaijan is preceded by Ukraine (35), Lithuania (48), Belarus (42), Latvia (72), Moldova (78), Estonia (74), while it is ahead of Uzbekistan (96), Kazakhstan (137), Tajikistan (150), Turkmenistan (156) and Kyrgyzstan (173).
Top ten countries in the ranking include Spain, Netherlands, Brazil, Germany, Argentina, England, Uruguay, Portugal, Croatia and Russia. Azerbaijan's national soccer team last ranked among top 100 countries in 1994.
/Day.Az/