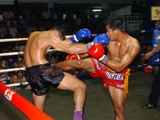 On 20-23rd of October, Baku will host European WAKO Kickboxing Championship. According to Azerisport.com, 720 athletes, coaches and judges from 31 countries are set to participate in the tournament.
Sadikh Bagirov, the manager of the Azerbaijani national teams believes that main counterparts of Azerbaijan will be Russian, Georgian, Ukrainian, Serbian, French and Italian teams.
Bagirov also pointed out a possibility of Armenian team coming to participate in the championship.
"We are awaiting for the official apply of the Armenian team. If until then there will be no response from Armenian federation, then none of their kickboxers will be able to enter the ring," Bagirov said.
"Although some of the Armenian fighters expressed interest in participating in this tournament, it was explained to them that, its impossible to participate in the championship separately," Bagirov added.
/Vesti.Az/