10th round of games of chess took place as part of the youth (U-20) Personal World Chess Championship.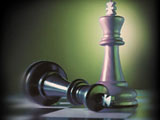 Azerbaijan's chess chess player Gulnar Mammadova beat Uzbek Nafisa Mumiova. The victory which was the seventh in the world championship allowed Gulnar score 7.5 points and return to the third line. Another Azerbaijani player Khayala Abdulla played a draw with Irina Andrenko from Ukraine. Khayala ranks 15th with 6 points. Anna Muzychuk from Slovenia ranks first with 9 points,
In the junior tournament Azerbaijan's Eltaj Safarli and Ulvi Bajarani defeated rivals from Ukraine and South Africa respectively. The Azerbaijani chess player with highest point in the junior championship ranks 17th with 6.5 points. Russian Dmitry Andreykin leads the ranking with 8 points.
/Vesti.az/