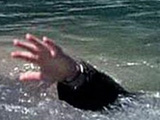 The President of Armenian Sambo Federation Levon Hayrapetyan sent his Azerbaijani counterpart a letter of condolences after the 16-year old European Sambo Champion Mikhail Orujov was found dead in Georgia on Sunday.
"The Sambo Federation of Armenia condoles with Michael's relatives, Azerbaijani sportsmen and coaches," the letter says.
16-year old champion was taking part in the traditional Azerbaijani-Georgian friendship days, and after that took off to the nearest lake along with his friends. Orujov tried to swim all across the lake, however couldn't and drowned.
/News.am/