Golden Grand-Prix wrestling tournament to commemorate Azerbaijan's national leader Heydar Aliyev has today kicked off in Baku.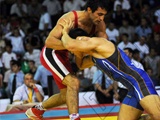 Day one will see 122 wrestlers, including 24 Azerbaijanis in action in the freestyle event.
Azerbaijan's hopes will be pinned on Namig Sevdimov, Elchin Hasanov, Azer Pashayev and Yashar Aliyev weighing in at 55 kg, Agahuseyn Mustafayev, Khaybulla Shaalov, Jalal Suleymanov and Haji Aliyev at 60 kg, Jabrayil Hasanov, Ruslan Dibirhajiyev, Emin Azizov and Zalimkhan Huseynov at 66 kg, Jamsulvara Jamsulvarayev, Ashraf Aliyev and Agil Guliyev at 74 kg, Sharif Sharifov, Novruz Temrezov, Haji Alijanov at 84 kg, Jamaladdin Magomedov, Khetag Gazyumov and Mehman Imanguliyev at 96 kg, Ali Isayev, Tokhtar Temrezov and Maksim Prokhorov at 120 kg.
/AzerTAc/