Azerbaijan's Ganja football club looks to sign an English footballer.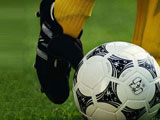 The FC said footballer Mark Redshaw is already in the Ganja city and attends the club's trainings.  
Redshaw launched his professional career in the Manchester United junior team (1992-2000).
Twenty six-years-old Redshaw was transferred to the FC Ganja from the Greek Etnikos Pirey.
Redshaw spent most his carrier in the UK and played in the Australian FC Sterling Lions in 2007-2008 and scored 10 goals in 11 games.
Earlier, Redshaw played in the American Los Angeles galaxy (2006), Italian Triestina (2005-2006), Wales's Caernarfon Town (2004-2005) and English Manchester City (2003-2004).
/Trend/