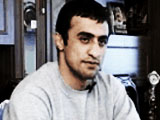 Yesterday, former olympic champion, Azerbaijani wrestler Farid Mansurov was officially appointed as a head coach for the Azerbaijani national greco-roman wrestling team.
"This is a great responsibility for me. I completely understand that, and hope to do my best. I thank the Federation for giving me this opportunity," said Mansurov to Day.Az.
"The injury I received at the European championship in Baku took a lot out of me, and my recovery was going too slow. I had to wait for another year, and even then, I wasnt sure if I ever will be able to wrestle again. So, after thinking it all over, I decided to retire, though I still had titles to win", the champion explained.
"How good of a coach will I be? I hope to be as good as I can. An athlete thinks of himself most of the time, as for the coach, he has to think about everyone. And I'll try to do just that", Mansurov pointed out.
/Day.Az/