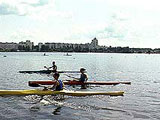 Azerbaijan has won three gold and two bronze medals at the International Ruhr Regatta, carried out in Germany, Bochum, according to the Azerbaijani National Rowing Federation.
All 3 gold medals were captured by Radoslav Kutsev from Azerbaijani team. Kutsev prepares for the upcoming first summer Olympic games among teenagers, to be held August 14-26 in Singapore. Kutsev was ahead of his rivals in overcoming 1,000, 500 and 200 meters in a single-seated boat.
The bronze medals were captured by Azerbaijani rowers Tamerlan Mustafayev and Vahid Hasanov. Mustafayev ranked third in overcoming a distance of 200 meters at the single-seated-boat, as well as 500-meter in two-seater boat with Hasanov.
/
Trend
/