Grand Prix Rhythmic Gymnastics tournament has wrapped up in Innsbruck, Austria.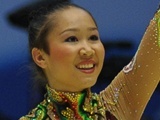 Azerbaijani gymnast Aliya Garayeva claimed three medals in individual finals held on Sunday. She won a silver in a event with a ribbon (28.225) and bronze with a rope (27.425) and hoop (27.950).
Other Azerbaijan gymnast finished 7th with a skipping rope (26.200) and 8th with a ribbon (26.450). Russian gymnast Evgenia Kanaeva won three of the four finals.
/Day.Az/