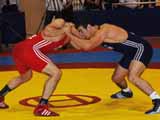 The International Federation of the Combined Styles of Wrestling (FILA) has admitted that Russia's freestyle wrestler Mahmud Magomedov had no right to perform for Azerbaijan in the European Championship 2010 where he won gold medal in the weight category to 55 kg, due to violation of the rules about changing nationality, it said in a letter by FILA Secretary General Michel Dyussona addressed to the President of Azerbaijan Wrestling Federation Fazil Mammadov.
"As it turned out, the fighter of Russian origin got his new citizenship in Azerbaijan in August 2009. It means in a period of two years, he is not allowed to attend championships for the team of Azerbaijan," the letter says.
"Magomedov should be denied the title of European champion, even if he violated the rules on changing citizenship and attended the championship for the Azerbaijan Wrestling Federation."
"In accordance with the rules, it has been decided to temporarily suspend Magomedov's performance for one year until March 28, 2011, for his violation of the rules to change citizenship. This fighter will not participate in the World Championship in Moscow."
It should be noted a month ago, Dusson stated that not Mahmoud, but Magomed Magomedov performed for Russia at the World Cup a year ago. He stated this in his letter to the Russian Wrestling Federation.
/Azerisport.com/