World Judo championship wrapped up in Cairo.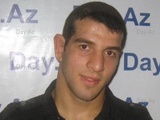 Azerbaijani judo fighter Elnur Mammadli (81 kg) achieved his first success since winning the 2008 Pekin Olympiad. Overcoming his rivals from Hungary, Egypt, China and Russia, Mammedli won golden medal. In the same weight category another Azerbaijani fighter Elxan Radjabli captured the bronze medal.
In the weight category until 90 kg, Elxan Mamedov entered the finals, where he sadly lost to the russian fighter Kyrill Voprosov, and therefore became the silver medal winner.
In overall, Azerbaijani team won 1 gold medal, 2 silver medals, and 2 bronze medals. The team took the 4th place among 28 countries.
/Day.Az/