Azerbaijani rowers have won the World Cup in France.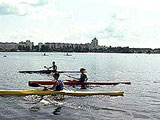 World Cup competitions in canoeing have wrapped up in Vichy, France. Azerbaijan was represented by canoeists Sergei Bezuglyi and Maxim Prokopenko at the competitions.
Azerbaijani rowers won a bronze medal at 500 meters. In the final race Bezugly and Prokopenko showed a result of 1 minute 37.756 seconds. Gold medals were claimed by Russians Evgeny Ignatov and Ivan Calm and silver by Belarusian Dmitry Rabchenko and Alexander Vavchetskiy.
Rowers from 45 countries attended the World Cup.
/Day.Az/