Olympic champion, and 2-time world greco-roman wrestling champion Farid Mansurov gave his first interview, after being released from the hospital. He got there in the first place, due to broken jaw. The incident occured at the European championship, in Baku.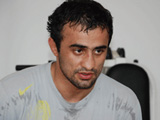 Farid, how do you feel right now? Can we try to recreate the picture of you receiving this awful injury?
During the fight I wanted to overthrow my opponent, and earn 4 points. However, technically it did not work - the man fell right on my face. Strange thing is, this technique works all the time during practice, and during the match it didn't. After the fight I did not have time to check my face, so I started my second fight, and the situation got even worse. I was quickly sent to the hospital, where the operation was conducted. As of now, I feel okay.
People say you wanted to continue yourself...
I did. I did not have a medal of European champion. I thought I'd go through these 2 matches, and the finals will be even closer. Well, one should not play with health however. I'd like to thank the doctors that helped me out. They did their best for the sake of my health.
Reportedly, you were not allowed to talk days after the operation. Is it true?
I could not speak anyway. Broken jaw is no fun you know. Even now, I try not to move it very much, and eat only limited foods.
Did your friends watched you fight?
Of course. As soon as the operation was finished, I turned on the TV. I was very happy for Elcin and Gasan Aliyevs, who captured medals. Elvin Mursaliyev earned silver medal, which is also great. The team did good.
You are set to miss the World championship in Moscow. Who would take your place?
Coaches know better. The team has some great young guys, who have earned their chance. I am sure we will hear Azerbaijani hymn.
/Azerisport/