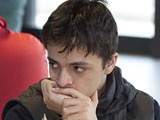 After winning the International chess tournament in Serbia, Azerbaijani player Nijat Abbasov became the international grandmaster.
Reportedly, 14 year old Abbasov became one of the youngest international grandmasters in the world, and 18th grandmaster in Azerbaijan.
As far as his play in Serbia goes, he came prepared - for each match he has been training with great serbian specialist Igor Miladinovich. Hard work paid off - Nijat  scored 7 points, and took the 1st place.
/Day.Az/