17th Acrobatic Gymnastics Championship of Azerbaijan will start in the Baku Gymnastics School today.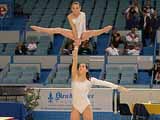 According to the Azerbaijan Gymnastics Federation - 48 acrobats will participate in the championship. Along with the athletes of the Baku School of Gymnastics, "Neftchi", "Zirve", "Tehsila" schools, sports school of Nizami district of the capital, gymnasts from Shabran will also demonstrate their skills.
Acrobats will be divided into two streams: the master of sports and candidates, as well as switches and acrobats of age group. All participants will perform in personal all-around event. Seven pairs of male, 8 female duets, 3 mixed pairs and 3 male groups will participate.
/Day.Az/