Canoe World Cup will take place in France on May 7-9.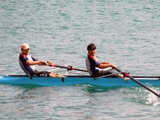 Azerbaijan will be represented by winners of the World and European Cup Sergei Bezugly and Maxim Prokopenko, who will compete at a distance of 500 and 1,000 meter.
After the tournament, the Azerbaijani oarsmen will receive training in Poland, and then take part in the World Cup in Germany and the European Championships in Spain.
/Azerisport.com/