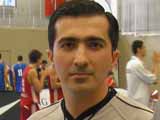 Yes, thats right, Alakbar Hasanov has become the first Azerbaijani basketball referee ever to receive such honor. As for how he got his official international status, Hasanov says it happened after he, along with other referees had to take numerous tests.
The winners were selected via 2 stages - one was a series of seminars, organized by FIBA in Antalia, and the 2nd one was in Germany, where the participants had to undergo another set of exams.
According to Hasanov himself, "the title of international referee is a great responsibility, roughly speaking the ref represents his own country at the championships".
"The feelings of being the referee of international category is certainly very pleasant, considering that now all referees and coaches listen to your opinions and decisions during the game. In general, the ratio changed course, to the best", Hasanov told Today.Az.
He also pointed out the advantages of having the rank of international category:
- ability to look after young referees
- being able to judge important matches (semi-finals,finals) in Azerbaijan
- be a referee during the overseas international games
- foreign seminars participation
- seminars conduction in Azerbaijan.
Reportedly, Hasanov's dreams is to open a school of young referees in Azerbaijan. "If I get the green light on this idea, then I can get on it in the nearest future", Hasanov said.
/Today.Az/