Azerbaijan's capital will host an international President`s Cup chess tournament.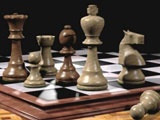 Azerbaijan's hopes will be pinned on European champions Teymur Rajabov, Shahriyar Mammadyarov, Gadir Huseynov and Rauf Mammadov.
The tournament will also see participation of the world's top grandmasters, including Russian Vladimir Kramnik, American Gata Kamsky, Hungarian Judit Polgar and Israeli Emil Sutovsky.
/AzerTac/