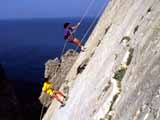 Juniors and youth rock climbing qualifying competitions organized by the Azerbaijan Federation of Air and Extreme Sports took place in Nardaran village in Baku outskirts.
The competition was a preparation for the country championship to be held in country's Gusar region on May 28-30.
As many as 109 climbers in 3 age categories - under 14 years to 17 years and older than this age - participated in the competition.
Athletes from the capital's universities, sports clubs Ekosport, Western University, "A +", "Scouts," "Dagchylyg" sports school, Republican Federation of Mountaineering and mountaineers from Gusar, Gakh, Ismayilli regions have been assigned various grades by representatives of the Federation of Air and Extreme Sports. 
The next climbing qualifying competitions will be held in Nardaran on May 16.
/AzerTac/