A team of Azerbaijan gymnasts is attending the Rhythmic Gymnastics European Championship in Bremen, Germany.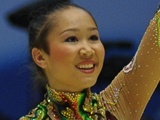 Juniors have completed individual finals with hoop and skipping rope on the first day of the Rhythmic Gymnastic European Championships which is underway in Bremen, Germany.
Azerbaijani gymnasts Lala Yusifova reached finals by scoring 25,125 points for the exercise with hoop and took 4th place while Aisha Mustafayeva received 24,000 550 points to take 5th place.
Russian gymnasts Valeria Tkachenko and Alexandera Merkulova won the competition.


-------------
10:10
Two Azerbaijani juniors reached finals on the first day of competition. Lala Yusifova got 24,550 points for exercise with hoop and took 4th place.
Aisha Mustafayeva scored 24.100 points for exercise with roop which allowed her to take a 7th place.
All-around competitions as part of the competitions have already ended.
Azerbaijani gymnast Aliya Garayeva displayed remarkable performance scoring 111,375 points to rank 3rd in the All-around competitions. This is the first medal in the history of Azerbaijan at the the all-around European Championships.
Russian Evgenia Kanayeva (115,900) and Daria Kondakova (113.725) took first and second place respectively.
Aliya Garayeva scored 27.925 points with in exercise with rope, 27,800 with hoop, 27.900 with ball and 27,750 with tape.
Another Azerbaijani gymnast Zeynab Javadli took 19th place with overall point of 97,250.
/Day.Az/