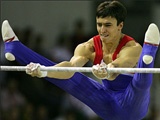 Four Azerbaijani gymnasts - Ugur Khalilbeyli, Yevgenia Samarkin, Ahmad Agayeva and Emil Seyidov - participated in an international tournament in the Georgian city of Batumi.
Azerbaijani sportsmen have secured five medals.
Ugur Khalilbeyli (born in 1992) took 1st place in all-around and won a silver medal in floor exercise. Yevgenia Samarkin (born in 1998) in her age group won silver in the ring exercising. Emil Seyidov (born in 1999) also won 2nd place on the parallel bars while Ahmad Agayev (born in 1994) received a bronze award for the floor exercise.
The competition involved three South Caucasus republics - Azerbaijan, Georgia and Armenia.
/Day.Az/