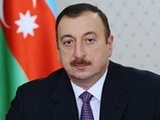 ---------------------
April 13
23:18
The Heydar Aliyev Sport and Concert Complex in Baku hosted official opening ceremony of European Championships in Greco-Roman wrestling, freestyle wrestling and women's wrestling on April 13.
Those gathered at the ceremony greeted the Head of the Azerbaijani State, President of the National Olympic Committee, President Ilham Aliyev and his spouse Mehriban Aliyeva.
The championship is attended by 383 wrestlers from 36 countries, including Azerbaijan, which is represented at the event by 21 athletes. Young athletes brought to the hall the flags of countries participating in the Baku championship.
The Polish President Lech Kaczynski and his wife, senior officials of state and government of Poland, who were tragically killed by a plane crash near Smolensk April 10, were commemorated with a moment of silence.
In the opening ceremony, speeches were delivered by the Minister of Youth and Sports of Azerbaijan Azad Rahimov, President of the International Federation of Associated Wrestling Styles (FILA) Raphael Martinetti, President of the European Wrestling Federation (CELA) Zeno Zenov. President of the Wrestling Federation of Azerbaijan Fazil Mammedov announced the opening of the championships.
National anthem of Azerbaijan Republic was played out. A concert program was presented with participation of masters of art and dance of Azerbaijan. Then the final matches in four weight categories started.
/Trend/
Click to enlarge: