International boxing tournament in memory of Soviet Union Hero Konstantin Korotkov has wrapped up in the Russian city of Khabarovsk.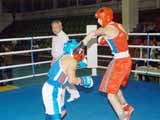 Azerbaijani boxers have one gold and two bronze medals in the tournament.
Azerbaijani boxer Ismat Eynullayev took the first place in the weight category 60 kg. In the finals, he beat Australian Luke Jackson with the score of 17:14. In the semifinal, Eynullaev took over Russian Alitet Oorzhak by 21:7.
Elvin Mamishzade (51 kg) and Emil Maharramov (69 kg) won the bronze medals. The competition was attended by 84 sportsmen from Azerbaijan, Russia, Armenia, Australia, Germany, China, North Korea, Tajikistan and Ukraine.
/Day.Az/