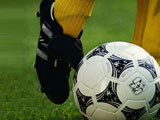 Next football tournament "Media Cup - 2010" among the teams of the media outlets in connection of National leader of Azerbaijan Heydar Aliyev's birth is planned to be held.
Team, which will rank the first at the competition, which will be attended by nine teams, will be awarded a cash prize of 1,000 manat, and the teams ranking the second and third - 300 and 200 manat respectively.
"The initiative to establish a prize fund belongs to the new sponsor of the tournament - Akkord Group of Companies," chief editor of the Sherg (East) newspaper, organizer of the tournament, Akif Ashirli said.
As a result of the draw, the teams were divided into two groups. The first group will compete with the joint command of the newspapers "Sherg", "525-th" newspaper and "Adalat" (Justice), "Syama" and Public Television, the second group - Azerbaijan State Broadcasting Company  , ATV, Khazar TV, the newspaper "Yeni Azerbaijan" (New Azerbaijan) and the team of sponsor company. Teams who will rank in the first two places in the groups will meet in the semifinal. 
/
Trend
/