Azerbaijani karate fighters participated in the international karate competition USA OPEN in Las Vegas.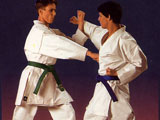 Rashad Huseynov, Rafiz Hasanov, Sanan Aliyev, Niyazi Aliyev (all - 67 kg), Amal Atayev (84 kg) and Feyaz Ildrymzade (over 70 kg) represented Azerbaijan at the competition.
Feyaz Ildrymzade became the winner of the championship. Sanan Aliyev, Rafiz Hasanov, Amal Atayev and Niyazi Aliyev took 3rd place. In addition, the Azerbaijani team won a bronze medal in a team competition.
The Azerbaijani team played in the U.S. under the leadership of President of the National Karate Federation of WKF Style Yashar Bashirov and head coach Rahman Hatamov. The prize fund of competition totaled $15,000.
/Day.Az/