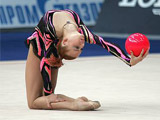 Azerbaijan's junior team won 3rd place in the "Treasures of St. Petersburg" competitions held as part of the Rhythmic Gymnastics World Cup in Russia, the Azerbaijan Gymnastics Federation said.
Quartet consisting of Irada Ahadzade, Madina Hasanova, Mansura Mehtiyeva and Aliya Pashayeva was second only to the teams from Russia and Belarus.
The team will later perform at the European Championships that will start 10 days later in Bremen.
Anna Gurbanova, ranking  7th at the World Cup gymnast in all-round, got a pass in all four finals. Her best result in the final tournament was 7th place with a tape. Hostess of the competitions Russian Olympic champion Evgenia Kanayeva excelled this time, too.
/Day.Az/